Batch Targets
A Batch Target points to a fixed destination folder or drive and is displayed as part of a list in the right sidebar's Targets tab. Targets can batch copy, move, decode, and process files and respond to Drag & Drop.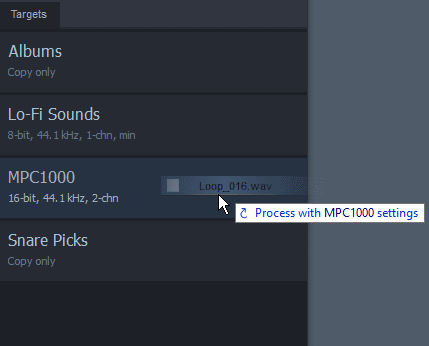 Each target accepts files and/or folders via Drag & Drop and copies or moves by default, but can also have one or more batch processing options attached to it. Alternatively, you can also send files to a target through the File List context menu.
Available from Resonic Pro 0.8.9.
Creating a new Batch Target
To create a new target, Drag & Drop a folder (or drive) into the Targets tab in the right sidebar or right click the folder.
You can toggle the right sidebar's visibility using the F6 key, or with a button in the status bar.
Copy or Move
The new target will default to Copy only, which simply copies any files and folders it receives to the intended destination folder or drive.
You can move files to the target by holding down the ⇧ Shift key during Drag & Drop.