Reinventing Workflow with Resonic Pro
Resonic Pro is an every-day audio tool for professionals and enthusiasts alike that supercharges your productivity and lets you handle your audio content in more playful and creative ways.

Fast and Responsive
With exceptional speed, responsiveness, stability, and usability Resonic Pro can improve your overall workflow, so that you can get done more in less time.
From playing, looping, and extracting audio, to file, sound, and sample management, the Pro version extends, improves, and reinvents the basic features found in Resonic Player, and adds countless new ones.
Find out how out how the Pro compares to the free Player in the Product Comparison Chart.

Designed for Audio Professionals
The Pro version is being designed with audio professionals and enthusiasts in mind:
music producers, composers

sound designers, audio engineers, from recording to mastering

video game producers, designers

video editors

audio content producers (e.g. sample CDs)
Planned Features
To learn more about planned features in Resonic Pro:
Development Road Map
Maximum Metadata Coverage
We consider metadata coverage to be the most important quality of a good sample librarian, hence a lot of our attention goes into this part of the program. The Resonic meta core is extracting and reinterpreting deep metadata from files that is not visible to most other applications.
Resonic's ground-breaking Auto Tag system (to be introduced with the 1.0 release) and its advanced algorithms will round this off by predicting keywords based on the extracted metadata, processing millions of patterns and combinations on countless files within just a few milliseconds, building up a virtual keyword library automatically, which assists you in finding sounds fast that you didn't even know you had. A year of research and analysis and a lot of feedback from testers went into this particular feature and we're convinced that it'll be a driving force to your workflow.
Integrated File Management
Manage files and folders using Explorer-like management functions, tightly integrated with the operating system, directly from within Resonic.
From cutting, copying, pasting, recycling, and moving files, to advanced Drag & Drop inside Resonic, from Resonic into other applications, and from other applications into Resonic, in the most compatible way possible to cover as many third party applications as possible.
Available from Resonic Pro 0.9.
---
The Pro main window in 0.8.8b, listing all 25 GB of samples in a GDC game audio sample pack: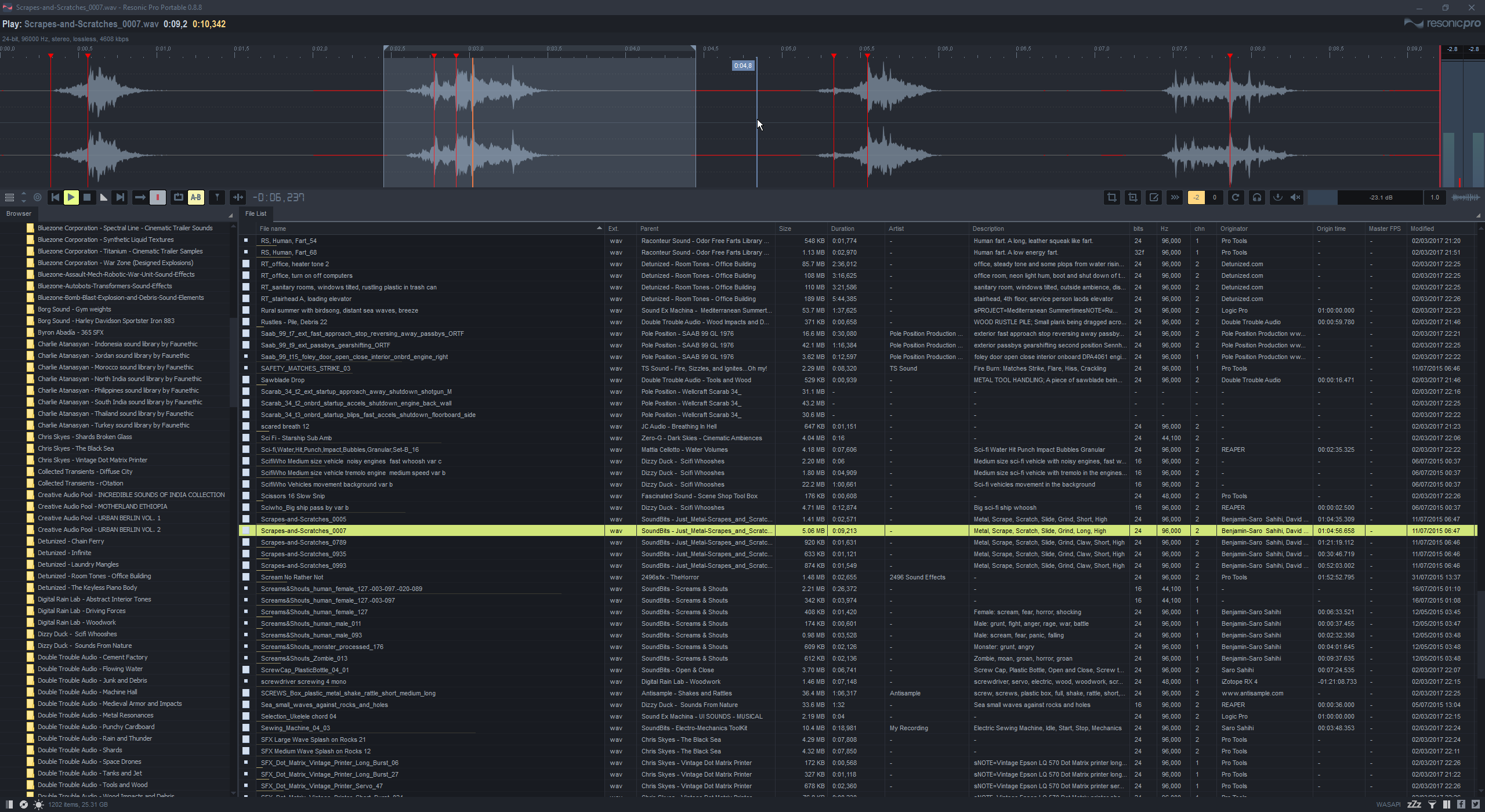 This video shows you some of the fundamental features of the first Resonic Pro Beta release (0.6.2):