Description
Resonic's crossfeed (the headphones button) is designed to reduce super-stereo fatigue when listening to stereo audio records for a prolonged period of time on standard headphones.
It employs the excellent Bauer Stereophonic-to-Binaural algorithm and tries to reproduce listening conditions similar to those of sitting in front of stereo speakers.
We're offering BS2B in form of VST2 plugins to users of DAWs and audio editing applications. All credit for both the algorithm and the plugin goes to Boris Mikhaylov, although we added Resonic's fine-tuned 730/6.2 "Liqube" setting and updated the interface graphics a bit.
The full source code of this modification is available upon request.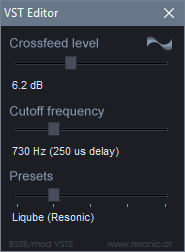 Released May 30, 2016
New Features
Added Resonic's fine-tuned 730/6.2 "Liqube" setting.

Improvements
Updated graphical user interface to match Resonic Pro style.

Remarks
This is the first version, made by request, and based on Boris Mikhaylov's original
bs2b plugin 2.1.0.