File List
The File List is one of the main elements in the Resonic user interface. It looks like this: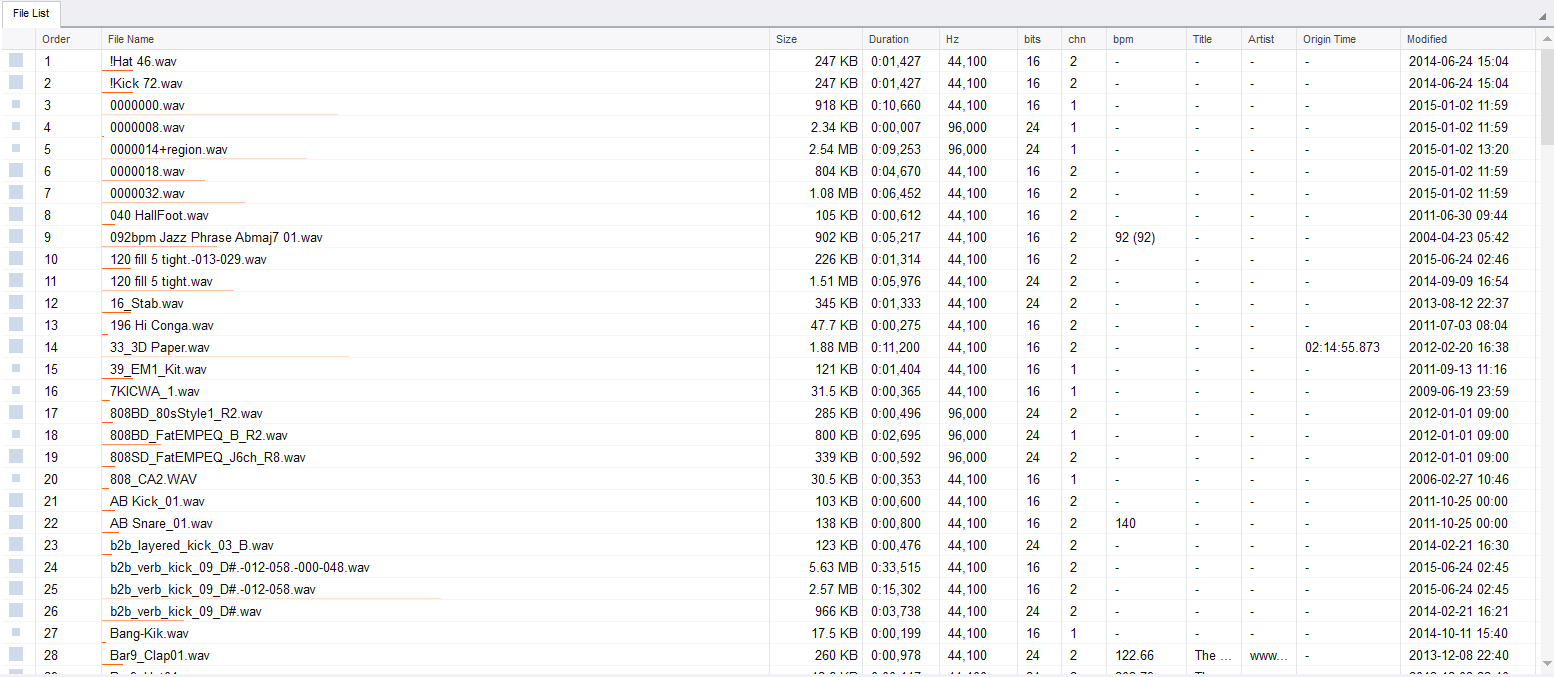 File List Behavior
The following general file list behavior applies to all versions of Resonic:
Left-Click a non-playing file to play it.
Ctrl

+

Left-Click a file to select it — it won't play; i.e. you can Ctrl

+

Drag the currently playing file without playing it.
Esc always clears the current selection.
When a playing file is not selected yet, it will never restart when clicked. i.e. press Esc to clear the selection, then drag the playing file out, and it won't restart.
When a playing file is already selected and is clicked again, it will restart.
Right-Click for Resonic context menu; ⇧ Shift

+

Right-Click for Explorer context menu.
Wildcard Filtering (* and ?)
A wildcard (or wildcard character) is a symbol used to replace or represent one or more characters.
These wildcards can be used in filter pattern:
An asterisk (

*

) matches any character zero or more times in succession

A question mark (

?

) matches a single character once
To toggle wildcards use the *? button on the filter bar, or press Alt+W while the filter bar is open.
Available from Resonic 0.9.
Wildcard Examples
contains
my text
,
my test
, etc.
contains
my
followed by
text
somewhere
begins with
123
and
1234
, etc., followed by a space, but not
12345
Filtering by Metadata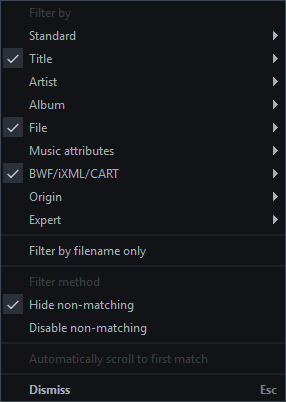 By default all versions of Resonic will filter by filename only.
In Resonic Pro many metadata fields that have their own file list columns, i.e., metadata embedded in the actual files, can also be used for filtering.
A complete list of metadata supported for text filtering is accessible through the

button.
To temporarily switch to Filter by filename only without losing the other filter settings, use the menu item, press the fn button on the filter bar, or press Alt+F.
Filter Modes
Show only matching
By default the File List Filter only shows files that contain the text you typed, hiding all the non-matching files.
Show all, but dim non-matching

This filter mode disables (and visually dims) non-matching files, and shows tick marks in the vertical scroll bar that indicate the approximate position of the matches in the file list.
Effectively it allows you to select items multiple times using keyboard or mouse without losing the previous selections when interacting with the file list in other ways, like you do in other applications like Windows Explorer.
Combined with double-click mode (DCM) this creates a powerful operating mode in which you can play, select, and navigate the file list independently. You could be selecting files while playback is progressing, and even right-click unrelated files to run commands on them, all without losing your current selections.
You can change this setting in the file list options, or in the file list's quick menu (arrow in the top-right corner.)
In single-click mode (SCM) focused item and active (playing) item are synchronized.
In double-click mode (DCM) focused item and active (playing) item are untied, which means that you can navigate the list independently from the active item, and select independently as well.
Press Esc at any time to clear the current list selection, regardless of operating mode and settings.

Understanding Length Lines
Length Indicator lines help to quickly distinguish between short audio files with varying durations of up to 30 seconds (e.g., one-shots, loops, sound effects) and long audio files (e.g., full songs, long loops, ambiences).
The longer the file's duration, the wider the line becomes.
No line is drawn when:
the file's audio duration is unknown

the file's audio duration is longer than 30 seconds
A line that roughly takes up half the width of the filename column would roughly be 15 seconds in length.
Lines utilize brightness variations to make them easier on the brain, and to make differences in file duration more visible even when quickly scrolling through the file list.
No other meaning is attached to these changes in color shade.